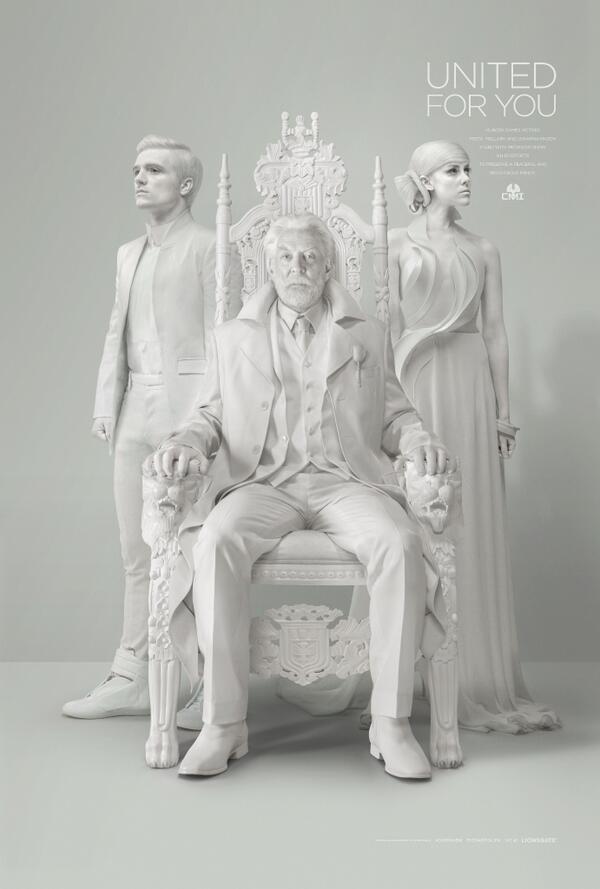 Hello everyone, The first and second teaser trailers for The Hunger Games: Mockingjay Part 1 have been released. The trailers are beautifully in keeping with the Mockingjay book where President Snow airs broadcasts with Peeta by his side, and District 13 hack the network and show their own videos with Katniss as the Mockingjay. I wasn't sure whether I liked the trailers at first, but they do give the viewer an idea of what is to come in The Hunger Games: Mockingjay Part 1, and the style of the trailers make the movies seem so much more real. Lynne has already posted the first teaser trailer elsewhere in the blog, but I've included both teaser trailers below so that you can watch them back-to-back easily.  According to hypable.com, there is a third trailer will be released shortly. Fingers crossed the third trailer will include Katniss interrupting the Capitol's broadcast! Watch this space because we will be adding the third teaser trailer (and 4th??) when they are released! The Hunger Games: Mockingjay Part 1 Teaser Trailer #1   The Hunger Games: Mockingjay Part 1 Teaser Trailer #2   Additionally, it seems that the movie producers are really making an effort to make the movies feel real. The Capitol's Twitter account was "hacked" yesterday by Beetee one of the rebels in District 13 and the following Tweet was made:
Source
  The Capitol's official website, TheCapitol.PN, was also "hacked" by Beetee with "The Mockingjay Lives" and "You silence our voices, but we are still heard" appearing in the source code:
Source 1        Source 2
This has happened twice already, but the message isn't always there. An inspection of the source of this morning (17/07/14) revealed no such hidden message. Click here to go to Capitol.PN so you can check out the source code for yourself (instructions here). What do you think of The Hunger Games: Mockingjay Part 1 movie trailers? Have you spotted any other Rebel "hacks"?
Happy Reading,